Cartonomy Group Shopping FAQs
Welcome!
With Cartonomy you can invite friends and family to:
browse products together
talk about what you like
share a group cart
set a deadline or a budget for the order
Here's how it works: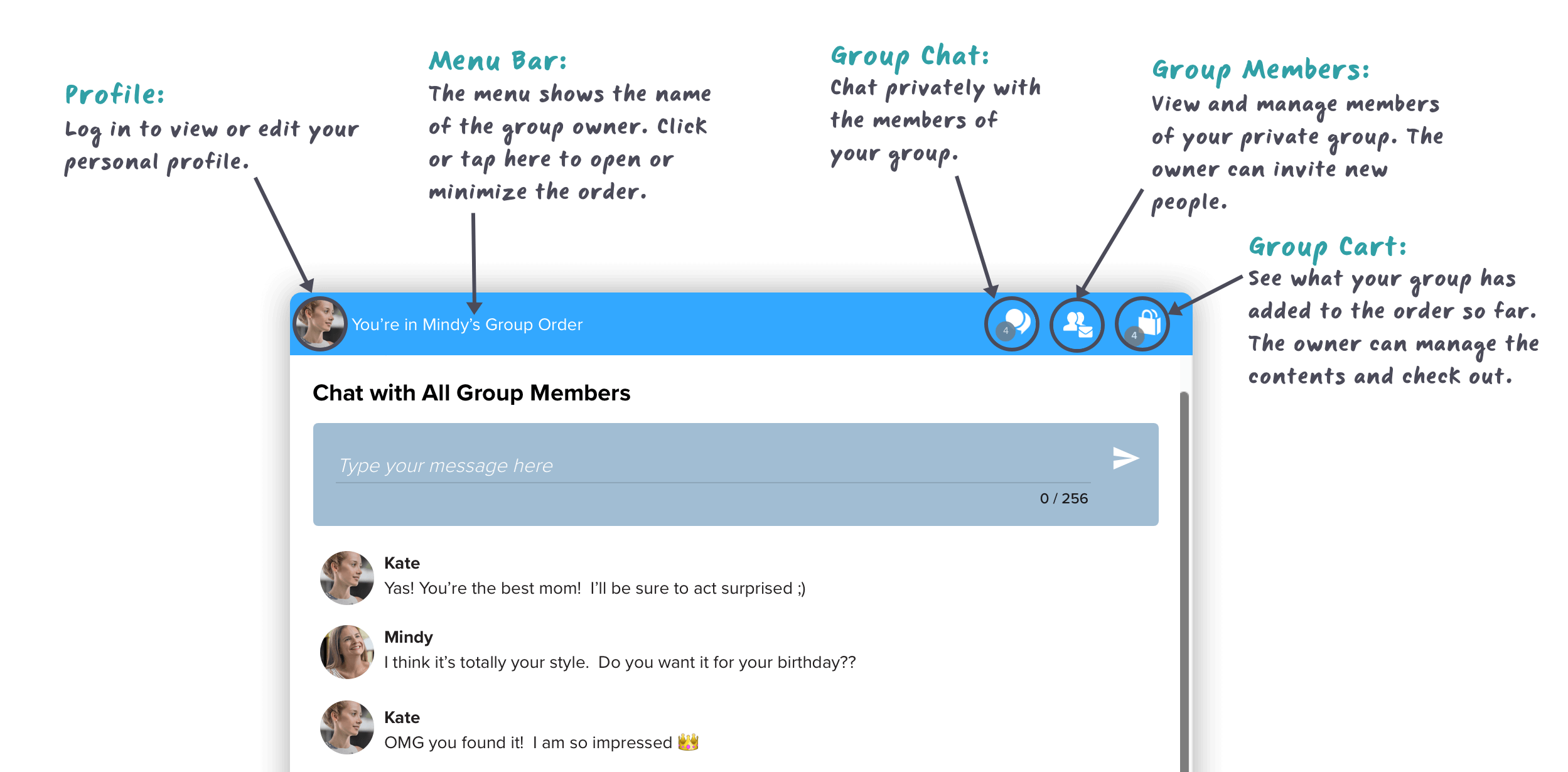 What is group shopping?
A private place to shop and chat together with your friends and family while browsing the same store. Anyone who's part of the order can add items into the cart and leave messages for the group, such as recommending your favorite products or letting them know what you need.
How do I start group shopping with Cartonomy?
You can start a group order by clicking the Cartonomy icon at the bottom of the store page (pictured below), or simply by adding any product in the store to a new group order. If you were invited to someone else's order, you will need to finish that order or leave it in order to start your own group order.
What is a cart owner and what can the cart owner do?
A cart owner is the person who created the group order. As a cart owner, you can invite people to your order, set a budget and deadline for your order, adjust the quantity of any item in the group cart, you can invite participants to join your order, and you can cancel an order. You can also add items and chat, same as cart participants. As the cart owner, you will be responsible for checking out and paying for the order.
What is a cart participant and what can a participant do?
A cart participant is anyone who was invited to shop in a group order by the cart owner. A cart participant can add items to an order, change the quantity of any item that he/she added, and chat with other group order members.
What happens when I click the Checkout button on the Group Cart page?
Only a cart owner will have the Checkout button on the Group Cart page. As a cart owner, once you start the checkout process, items in the Group Shopping Cart will be transferred to the store's shopping cart so that the order can be paid for. Once the order is paid, the Group Order is closed, and the owner as well as all participants will no longer be in the order. If you do not complete the payment process, the Group Shopping cart's items will still be active. You will still be able to Checkout, at which time the existing Group Cart items will be synched up with the store's active cart items so that you'll be able to pay for the complete order.
How can I cancel an order?
Only a cart owner can cancel an order, and this can be done on the Group Cart page.
I don't want to be in an order anymore. What can I do?
A cart participant can leave an order by using the button found on the Group Cart page.
Where can I see what items have been placed into the order, both my own as well as items added by other group order members?
On the Group Cart page, each person's cart contributions are listed.
Why do I need an account to Group Shop?
In order to personalize your shopping experience, we ask that you give a first and last name. In addition, for security purposes, we ask for a valid email. Lastly, you have the opportunity to enhance your shopping experience further by adding an avatar from Facebook or Google. We do not share any of your information with any outside parties.
Is Group Chat secure?
Absolutely. All chatting is done over a secure SSL connection.
How do I minimize Cartonomy's window?
Click anywhere on the store's page, or use the down arrow on our title bar, and Cartonomy will hide itself.
Can I shop for my own items outside of the group order?
Yes- just use the store's regular Add to Cart button above Cartonomy's Add to Group Order button. Your personal cart items will go into the store's shopping cart where you can check them out at your convenience. If you are the group owner, please be aware that when you checkout of the group order, any items in your personal Shopify cart will be checked out as well.
What information do you keep?
We retain your name, email address, encrypted password, chat history, and order history. This information is available to the store owner. We never share any data with third parties.